If you weren't already aware, Netflix's BoJack Horseman returned with season three yesterday (22nd July), and after two seasons and one Christmas special, we the audience know what we're in for… or do we?
To those unfamiliar with the show it must seem like your run of the mill, foul mouthed animated comedy. But BoJack Horseman is much more than that, what the show presents us with is some of the most relatable characters ever created and puts them in situations parodying topical events in the real world, finally sprinkled off with pop culture references. Every season, every episode to date has been meaningful and to some people, myself included, meaningful on a more personal level – BoJack is ironically the most human character on TV today.
Season three kicks off hot of the back of season two with BoJack on a press tour building up to the release of the highly anticipated, Secretariat. With rumours that Secretariat and BoJack himself being nominated for an Oscar, we see BoJack's career head in the direction he's always wanted and finally reinventing himself as 'BoJack Horseman, movie star' as opposed to 'that horse from Horsin' Around' – but if only it was that simple. The tagline for 'Secretariat' is 'He's tired of running in circles…' and in a number ways, isn't that what BoJack is doing?
This season focuses more on the inner struggle of the cast as we're given a flashback episode back to 2007, this episode puts a lot of things into perspective by showing the then and now, it all shows us that the characters are still in the pursuit of happiness. Example of this is we see BoJack also trying to free himself of just being 'that horse from Horsin' Around' by developing another tv show which ultimately fails. We're also given an episode at an underwater film festival and without giving away too much, the episode is almost entirely silent which adds to the tone and makes BoJack's actions even stronger.
Unlike previous seasons, season three doesn't need to win over its audience, it comes in strong, confident and fully aware. In the second season, BoJack's mother tells him,
'You were born broken, that's your birthright. And now you can fill your life with projects. Your books and your movies and your little girlfriends but it won't make you whole. You're BoJack Horseman. There's no cure for that.' – Season two, episode 1 'Brand New Couch'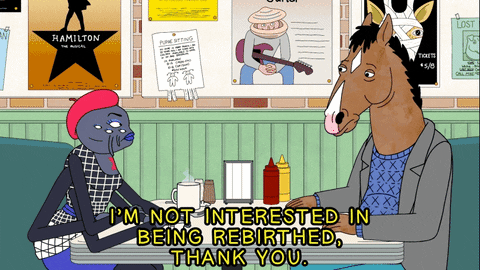 I feel that quote stands out more throughout this season as it becomes clearer that even with the success of his professional career, none of it will fill the empty hole inside, BoJack will never be happy. Luckily it's not all doom and gloom, well, it is very doom and blood but as we've come to expect all the feelings of existentialism and self-destruction are sugar coated. You may still be questioning your life after watching but for all the bleakness, there's the balance of light hearted humour. BoJack Horseman is a show that still doesn't hold back or pull its punches, despite its serious tone we still feel love for the characters and we still want more of them. It's a damn good thing that the show has also been picked up for a fourth season.